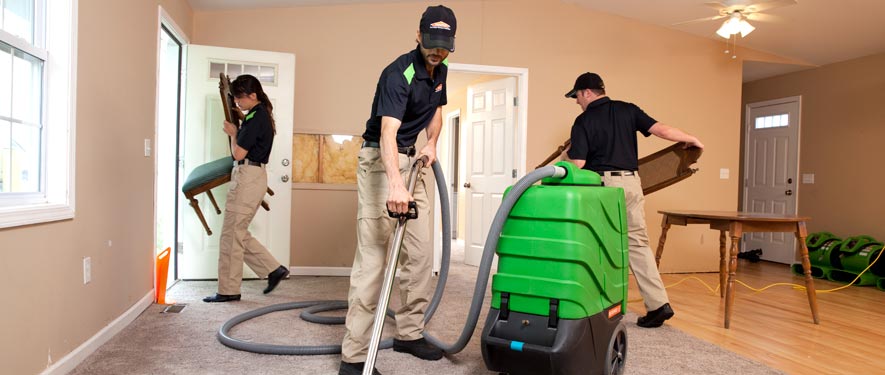 Residential Cleaning Services
Residential Cleaning Services
Cleaning your home is a seemingly constant effort; sometimes circumstances make restoring your property impossible with traditional cleaning efforts. Experienced SERVPRO professionals can help you get your home looking its best.
Post-Disaster Cleaning
After disasters like fire and water emergencies, time is of the essence to start cleaning your home. Trust our SERVPRO team to help with:
Board-Up Services
Muck-Out Cleaning
Debris Removal
Water Extraction
Surface Cleaning Solutions
Deposits like soot after a fire can be a challenge for restorers. Our SERVPRO residential cleaning team can use a wealth of products and equipment to address these issues. We have solvents, detergents, alkaline cleaners, and media blasting equipment to manage soot particles and their threats.
Scheduled cleaning can help your home look its best year after year. Our thorough cleaning surfaces can remove stains, neutralize odors, and revitalize worn-down areas like carpeting to prolong needed replacement. We work around your busy schedule to provide cleaning at the times when it is most convenient for you and your family.
Cleaning Flooring in Your Home
Surface cleaning hardwood and deep cleaning carpeting are specialties of our trusted SERVPRO team. We have advanced equipment and proprietary products for revitalizing wood surfaces and performing intricate cleaning for carpeting like hot water extraction, deluxe conditioning, and bonnet cleaning.
Residential cleaning needs vary from one house to the next. When you need help that exceeds traditional cleaning limitations, you can count on SERVPRO.
Need Cleaning Services?
Call Us Today – (718) 750-9455
Residential Cleaning Services include:
The SERVPRO carpet and upholstery cleaning service will not only get out the dirt you see, but will also remove the unwanted dust you don't. A professionally cleaned carpet and furniture may make all the difference in brightening up a room and freshening up your home.
We all have tasks around the house that don't make it to the top of our priority list. Properly maintaining your home's air ducts should not be one of them. Regular duct cleaning can increase your home's heating and cooling efficiency and improve the quality of the air you and your family breathe.
Your basic cleaning service is not going to have the expertise to effectively deodorize your home. Take advantage of SERVPRO's residential cleaning services to remove unwanted odors.
Our experts are ready to assist in the clean up of sewage and other biohazard materials and provide deep cleaning services for your home. Find out more about our franchise professionals.