SERVPRO Provides High-Capacity Water Removal in Staten Island
12/2/2023 (Permalink)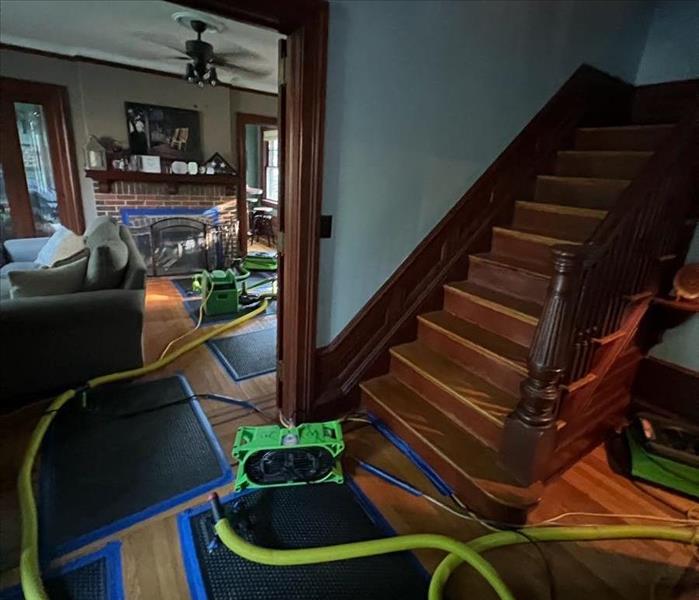 SERVPRO's top-notch equipment like these drying mats mitigate water damage to Staten Island homes. Here to Help®
Need Help with Water Removal and Cleanup in Staten Island – Call SERVPRO®
Water leaking into your home from broken windows, ruptured plumbing, or overflowing sinks can cause immeasurable damage to your Staten Island home. When water remains in place for extended periods, additional damage is done to porous materials, causing them to swell and lose structural integrity. Failure to properly dry your home after a water leak can also lead to a severe mold infestation.
That's why SERVPRO is prepared to respond 24/7 within four hours of your call to help with water removal, cleanup, and drying in your Staten Island home. High-capacity truck-mounted pumps are deployed, and water extractors for carpets, hardwood floors, dehumidifiers, and air movers are utilized. We aim to remove all excess water and begin drying your home as quickly as possible to mitigate further water damage.
SERVPRO also uses moisture meters to check in crevices and inside walls to confirm these spaces are dry and do not need treatment. We utilize an experience-tested process to ensure your home is returned to you "Like it never even happened."
Assess water damage and determine equipment and technical requirements
Extract water from all areas of your home
Begin drying activity with dehumidifiers and air movers
Clean and sanitize the structure and contents of your home
Complete water damage restoration, repairs, replacement of carpets, etc., as needed
Our team checks for water and moisture inside walls and in small crevices. Ignoring these areas can lead to the formation of mold, which can spread quickly if water removal is not completed correctly. Moisture meters and water extraction wands are used to identify and complete water removal. We use devices designed to blow dry air into these spaces, absorbing all remaining moisture and drying the area.
Call the water removal experts at SERVPRO of Northern Staten Island and nearby areas for assistance. We are Here to Help® 24/7. Call (718) 750-9455.